Chermside & Districts Historical Society
Originally written by Pat O'Shea, 2010. Updated by Sherry Mackay, Julia van Zon, Bradley Scott, 2023.
Chronology of Chermside 1937-1945
Image from CDHS archives: WW2 soldiers in Sparkes' Paddock (now 7th Brigade park)
1940: 6,000 troops camped in Sparkes' Paddock.
1941: Commonwealth resumes Sparkes' Paddock as Japan enters the war.
1942: U.S. Troops arrive in Brisbane.
1943: Plane crash in Sparkes' Paddock.
1945: Camp closed and was partly used to house homeless people.
Growth was slow during the 1930s partly due to the Great Depression but employment quickly increased when the 1939-1945 World War II broke out and Chermside experienced the huge impact of the Army Camp in Sparkes' Paddock, today's 7th Brigade Park.
This war marked a major turning point in Chermside because it was followed by a major house-building boom, which changed it from an outlying, almost country town to a suburb of Brisbane.
Map of Chermside area in 1937
The 1937 map shows more growth mainly on the west side of Gympie Road. A few more short streets are filling in the central area.
On the east side of Gympie Road, Latham and Sparkes Streets seem to have many houses while Norman Avenue and Kidson Terrace have appeared and Wallace Street has a few more houses.
View, Ethel, Sammells, Davenport, Henry, Farnell, Hilltop and Rainey Streets have appeared.
1946 aerial map of Chermside
Abundant flat land was available in Chermside for house building. Bush tracks became made and houses sprang up on each side. The large white patch across the northern part of Sparkes' Paddock marks a large part of the army camp and the effect of thousands of boots on the ground. Map courtesy of QImagery.
The 1946 composite aerial photo of Chermside shows the massive Murphy's Paddock enclosed by Ellison, Newman, Hamilton and Gympie Roads. It includes Marchant Park, Sparkes' and Early's Paddocks.
Chermside was still clustered around Gympie Road with Kedron to the south. Most of the Chermside area, with the exception of Marchant Park, was vacant land available for development.
1946 aerial map of West Chermside
This 1946 aerial photo shows Chermside on the western side of Gympie Road (off map) stretching past Webster Road into the small farms and bushland, which became the future Chermside West, with McDowall to the south-west and Bridgeman Downs to the north-west.
Much more land was available to the west of Chermside and practically all of it was bush or small farms. Suddenly farmland became much more valuable and represented the owner's superannuation. Map courtesy of QImagery.
Chronology of Chermside 1946-1958
Bruce Pie Industries Ltd became a major textile manufacturer with five departments, scouring, spinning, knitting, mattress, and make-up. The coil springs for innerspring mattresses were also manufactured in the make-up department. Image from CDHS archives. 
Burnie Brae, Hamilton family home until the late 1940s, Kuran Street, Chermside. Image from CDHS archives. 
1946: Bruce Pie buys land to build a textile factory in Kedron; he eventually employed 800 people.
1947: Telephone exchange in Chermside. Trams arrive in Chermside and this cheap transport enabled many people to build homes in the local area at a time when few people owned automobiles. There was a Post-War building boom. Houses were needed,  and finance was made available by banks and governments. Commonwealth/State Housing Commission built low-cost, asbestos-cladded houses while private builders concentrated on timber and tin houses. Local population rose.
1949: 400 houses built.
1952: Burnie Brae house demolished – Green belt planning introduced, which froze large portions of land – 88 acres (35.6ha) were resumed for hospital and school. The school was never built so it all became hospital land for The Prince Charles Hospital and St Vincent's Hospital. Housing Commission built 800 homes.
1954: Chermside Chest Hospital now the Prince Charles Hospital built. Another 665 houses built.
1954: Fire Brigade station opened on Hamilton Road.
1955: Brisbane Cash and Carry opened on the corner of Hamilton & Gympie Roads.
1956: William Basnett wins a case in Land Court to be able to subdivide his land, which was in the Green Belt; many other landholders were now able to subdivide too.
1957: The Drive-in Shopping Centre opened and was the first in Australia. The shopping centre had 28 acres (11.3ha) right in the middle Chermside at the tram terminus. Also, it was estimated that 100,000 people were or would be living within a 5km radius of the proposed site. The automobile was becoming more common and people who used to drive into the city to shop could now come to Chermside. It was so successful that in 1959 Myers from Melbourne bought it and expanded it.
Australia's first Drive-in Shopping Centre
Chermside was in the right place at the right time; the land was available, the cheap transport had arrived, hundreds of married couples wanted new homes, the finance was available, builders, and architects were available.
Then Tom Weedman came looking for a site on which to build Australia's first Drive-In Shopping Centre. The best site was Chermside right at the tram terminus, 28 acres in Early's Paddock. The incredible story of the Chermside Shopping Centre had begun. It was a big gamble that paid off way beyond anybody's expectations.
Allan & Stark Drive-in Shopping Centre 1957 comprised:
One department store – Allan & Stark
One supermarket – Brisbane Cash and Carry
25 specialty retail stores
700 car parks
For those who didn't own a car they could catch a bus or tram to the shops and walk across the road. You could also have your purchases delivered.
Aerial photo of the Drive-In Shopping Centre taken on opening day 28 May 1957. The large building in the front is Allan & Stark Department Store, to the left rear is the BCC Supermarket and the two long narrow buildings are the arcade with housing for 25 specialty shops. Hamilton Road is in the foreground, the then newly-built Playfield Street is on the right, Gympie Road is off to the left and Banfield Street is in the background. The big circle in the parking area is a helicopter pad used on the day. There was parking for 700 cars. Image courtesy of the Myer Archive Library of Victoria.
1958 image of Chermside Shopping Centre
This aerial photo shows the early stage of the Drive-In Shopping Centre, the houses on Playfield Street, and the vacant block of the Hamilton Road Reserve.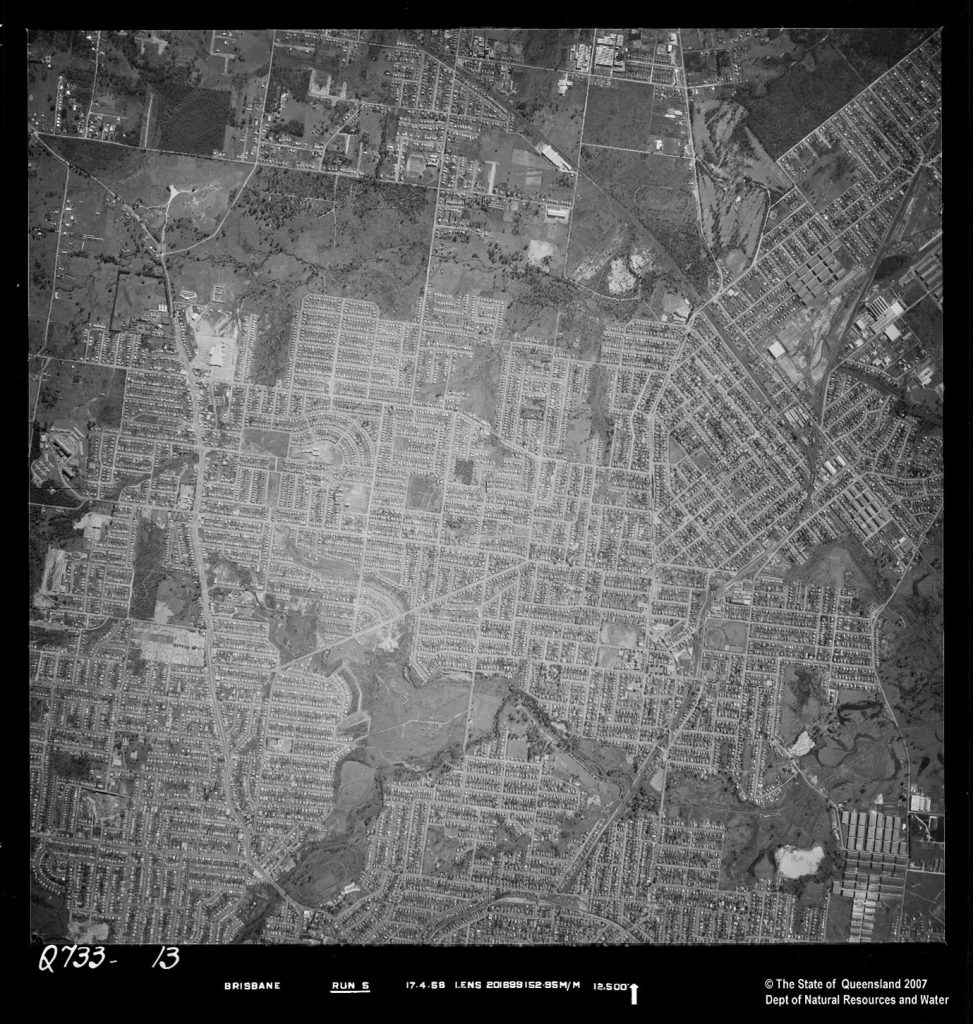 Detail from the 1958 aerial view showing the space available for expansion of the Drive-In shopping centre, the bush-covered elongated block which became the Chermside Hub and portion of the 1,200 homes already built.
2012 Google aerial image of the same area
This aerial map shows the mass urbanisation of the area compared to 1958, particularly with the development of high-rise buildings around Chermside Shopping Centre. 
Murphy's Paddock Legacy to Chermside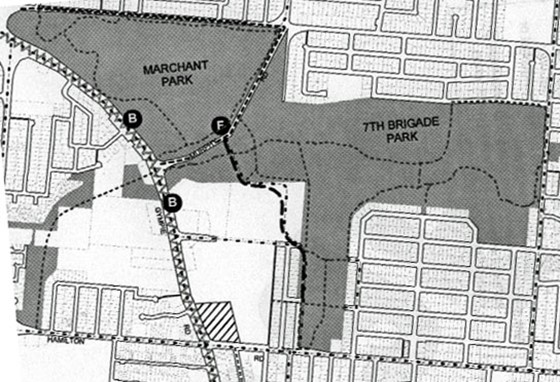 Of the original 203ha there is still approximately 113ha of open parkland. The dotted lines in the parks are the bikeways, the heavy dashed line is Kittyhawk Drive. (Major Centre Local Plan 2005)
A very important part of available space was due to the original survey which set aside the huge 203ha (504 acre) Murphy's Paddock in the heart of Chermside (click here to learn more about the Huxtable Survey).
Murphy's Paddock provided space for some 1,200 houses in the North-East and South-East corners, the 40ha (100 acres) of Marchant Park and the 73ha (180 acres) of 7th Brigade Park as well as space for the Library, Kedron-Wavell Services Club and the Aquatic Centre. The blank section above Banfield Street and marked by the letter B was Commonwealth land used by the old PMG and, later Telstra. It also contained the Tax Office and Commonwealth Centre.
In 1963 Brisbane City Council acquired the remaining 71 hectares of Sparkes' Paddock from the Australian Government and renamed it the Hamilton Road Reserve.
This was followed by the building of the Chermside Pool in 1964, the Kedron-Wavell RSL Complex beginning in 1970, the Chermside Library in 1997 and the Chermside Historical Precinct in 2000.
In March 1996, the area was renamed 7th Brigade Park in memory of the men who trained here and fought so courageously at Milne Bay where they inflicted the first-ever defeat of the Imperial Japanese Army.
Thousands of young men trained here before moving on to the battlegrounds of New Guinea and the Pacific Islands; some 560 of them never returned and twice that number were wounded.
The blank section in the corner of Gympie and Hamilton Roads reaching north to Banfield Street and east to Playfield Street was Early's Paddock and not part of Murphy's Paddock. The Westfield Shopping Centre now occupies most of Early's Paddock and most of the old Commonwealth land to Downfall Creek.
Chronology of Chermside 1958-1973
Chermside in the 1958 aerial photo shows the close development of the area around Gympie Road and especially to the east in what became Wavell Heights. On the western side of Gympie Road the urban area is bordered by Webster Road beyond which stretch the farmlands and bush.
1958: Brisbane City Council Municipal Library replaced the School of Arts.
1959: Ambulance Transport Brigade opened in Banfield Street.
1959: Brisbane City Council buys the remaining 180 acres of Sparkes' Paddock renamed Hamilton Road Reserve.
1962-1964: The Commonwealth Department of Housing acquired 70 acres of Sparkes' Paddock to build 320 homes as War Service Houses. Qld Housing Commission later built 975 homes under its Home Ownership Schemes.
1962: The new Post Office was officially opened by Mr. R.C. O'Brien, M.P. for Petrie. Mr. E. C. McLean Postmaster – first purpose-built Post Office in Chermside.
1963: Reservoir built on Milne Hill to supply water to thousands of houses.
1963: Brisbane City Council acquired the remaining 175 acres of Sparkes' Paddock from the Commonwealth Government, which became the Hamilton Road Reserve and later 7th Brigade Park. (Chermside Parklands Planning Study – BCC p.24)
1964: Brisbane City Council Swimming Pool on Hamilton Road opened in December 1964.
1966: Woolworths opens Australia's largest supermarket in Chermside.
1968-1971: Kedron-Wavell Services Club formed, developed, and opened.
1969: Last tram to Chermside – private cars and Council buses had replaced the electric tram.
Chermside Municipal Library, Gympie Road, c. 1958. Image courtesy of Brisbane City Archives. 
Chermside swimming pool, c. 1965. Image courtesy of Brisbane City Archives. 
1975 Government Intervention 1 - change of boundaries
Chermside Boundaries pre-1975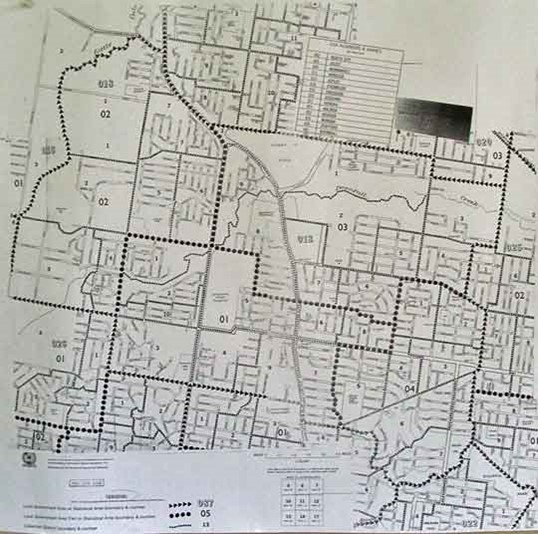 Map of Chermside pre-1975 when the size was 15.6 square km. The new suburbs of Bridgeman Downs and McDowall were not part of old Chermside but lay to the west. To track the boundary just follow the arrow heads. Image courtesy of The Australian Bureau of Statistics.
Chermside Boundaries post-1975
The current boundaries are much simpler than the old ones, especially on the east with Wavell Heights and the south with Kedron.
The western boundary is Webster Road which joins Gympie Road and moves south to Murphy Road and northeast to Navarre Street.
To Delaware Street, east to Newman Road, south to Hamilton Road, west to Pfingst Road, west on Calga Road, around Wavell Heights Primary School, south along Alleena Street to Rode Road, and west to Webster Road.
Chermside is now 'landlocked' and future horizontal expansion is very limited so most new expansion will be vertical.
The old boundary of Chermside was a complicated one which weaved and ducked around many streets. It was probably drawn up in the 19th century when settlements were scattered and it simply tried to include as many as possible.
Starting from the intersection of Hamilton and Trouts Roads the boundary went north along Little Cabbage Tree Creek to Albany Creek Road and turned south along Gympie Road.
East into Ellison Road, south into Newman Road, east into Buhot Street to Bilsen Road.
West into Main Avenue, south into Stadcor Street, east into Hamilton Road, south into Bilsen Road to Rode Road.
South-west into Edinburgh Castle Road and south into Imbros Street, across Buckland Road to Brook Street and along Kedron Brook to near the end of Nelson Street.
From the Brook to Tenth Avenue, via Kira Street to Eleventh Avenue, to Culgoola Street, to Fourteenth Avenue, to Edinburgh Castle Road and Gympie Road.
North to Kitchener Road, west to Maundrell Terrace, north to Rode Road, west to Trouts Road and north to Hamilton Road.